Conducting pre-trip inspections
Performing proper inspections to your vehicle prior to operation is vital in determining when maintenance is needed and in preventing avoidable accidents or violations.
It is important that all drivers are instructed on how to conduct step-by-step, pre-trip inspections. Many carriers include a detailed session on vehicle inspections in their driver orientation and safety meetings. New drivers may not have received adequate training from previous employers and may be unfamiliar with how the equipment operates at your facility. Even if the driver says he/she is knowledgeable, take the time to show them the proper procedures to conduct pre- and post-trip inspections and relay what is important to your company. It is possible that their knowledge has come from a less than reputable source and they may be unable to identify all vehicle defects.
Training your drivers
Establish a specified step-by-step, walk around procedure if you do not already have one. All drivers should be trained to follow the guidelines you have established in order to guarantee they have completed a thorough inspection. A proper pre-trip inspection should take the driver at least 15 minutes to conduct. They should obtain a tire gauge, ruler, clean rag and a flashlight. While conducting the inspection on all parts of the vehicle, the driver should place emphasis on the four systems where most violations are found: tires, brakes, lights and steering.
Discuss with each of your drivers the procedures for pre-trip inspections to ensure they have an accurate understanding of all the items that need to be checked and how to check them. Use a road examination for the driver to demonstrate his ability to follow the procedures of conducting a thorough vehicle inspection. Have the driver verbally communicate to the examiner each component they are inspecting and how they determine whether the component is defective or not. This will give the examiner insight to whether or not the driver needs immediate retraining. Drivers should be made aware that less than proper inspections and documentation will not be tolerated. This will help reduce roadside inspection violations.
See our Safety Solutions card for more information on conducting step-by-step pre-trip inspections or contact our Loss Prevention & Safety Services Department at lossprevention@protectiveinsurance.com.
New Safety Solutions Video: Pre-Trip Inspections
Learn the proper in-depth procedure for inspecting your vehicle before every trip in our latest Safety Solutions video. Watch video>>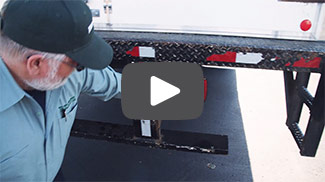 Safety and Compliance Resource Discount Program
| | |
| --- | --- |
| J.J. Keller offers Protective customers 10% off safety and regulatory compliance products including signs, forms, log books, posters, wall charts, books and more. Learn more >> | |
Infinit-i Training Boot Camps
| | |
| --- | --- |
| Protective customers are invited to attend a special two-day event that focuses on how to implement and utilize an online learning management system. Registration is FREE to Protective policyholders but seating is limited. Learn more >> | |