Gear up to survive extreme winter weather
As winter progresses, you'll likely encounter weather events such as heavy snow, ice or freezing rain, some of which may be severe enough to close roads and trap drivers in their vehicles.
Take a look around your cab. If you were in this situation but not lucky enough to be near a truck stop, would you have the supplies and tools needed to survive for 24 hours or longer?
Hazards like snowstorms and ice increase your chances of sliding off the road or being involved in a collision. Depending on where you are when that happens, you may be stranded for a while before help arrives. If it's weather-related, you could be stranded for several days.
This may sound like an extreme situation but it's something you can easily prepare for by making sure you have the following items in your cab to take care of yourself and your vehicle: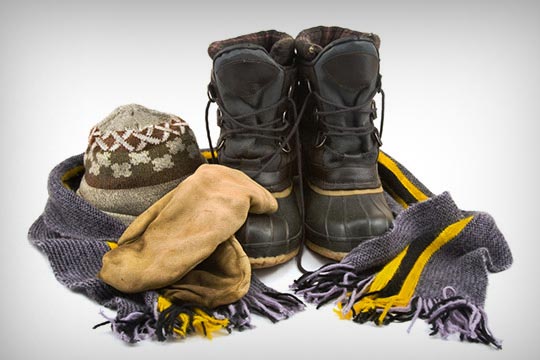 Keep warm clothing for your head, hands and feet in your vehicle, as well as a sleeping bag or blankets.
Personal supplies
• Additional warm socks, hat and gloves
• Sleeping bag or blankets
• Non-perishable foods such as dried fruit, nuts, granola, cereals and ready to eat canned or boxed foods
• Extra medication (check expiration dates)
• Bottled water
• First aid kit
• Hand and foot warmer packs
• Whistle
• Charged cellphone with emergency contact numbers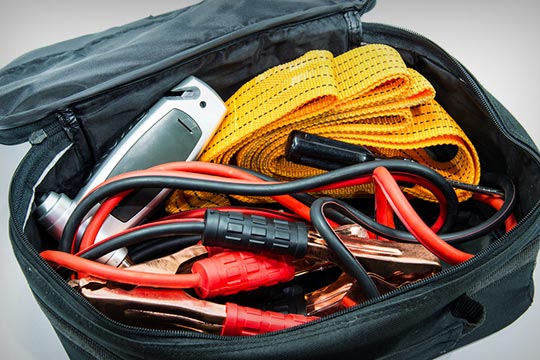 Jumper cables and basic tools may prove vital during a winter weather event.
Vehicle supplies
• Shovel
• Bag of cheap kitty litter, pea gravel, sand or salt to help get traction
• Flashlights and extra batteries
• Jumper cables
• Tool kit
• Tire chains
• Small section of tarp or other material to lay on when installing chains
• Windshield de-icer and scraper
• Emergency flares
Keep your fuel tanks no less than half full. If you do become stranded, conserve fuel by idling your vehicle sparingly – just long enough to keep yourself warm. Slightly open a window that's away from your exhaust outlet to permit fresh air into your cab. Make sure your exhaust outlet is not enclosed by snow. Also, ration your food and water so you have plenty until you are rescued.
Download the Winter Survival Kit Checklist, from our partners at www.keeptruckingsafe.org, to make sure you stay safe and warm should you become stranded this winter.
Free download: Winter Survival Kit Checklist
Be prepared for worst-case winter weather scenarios with the Winter Survival Kit Checklist from www.keeptruckingsafe.org. Download free checklist >>