4 ways to avoid injuries and motor vehicle collisions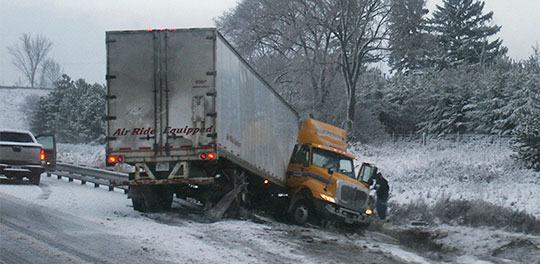 Losing control of any vehicle is scary. When it's a large truck, it can be deadly. Every day, you negotiate traffic and try to avoid collisions with other vehicles on the road. But collisions do happen and they account for 12% of all injuries and 26% of all injury costs for independent contractors. In order to avoid collisions, you should:
1) Conduct a post-collision analysis to identify the actual, remote, early and direct cause factors of the collision.
a. Were you following too closely?
b. Were you distracted?
c. Were you fatigued?
d. Were you in a rush because the load was late?
e. Did poor road, weather, lighting or equipment conditions impact your ability to drive safely?
If you answered "yes" to any of these questions, you need to examine why each of those conditions existed. This will help you to drill down to the root cause of the loss. Download our post-collision analysis worksheet >>
2) Once you have determined the cause, educate yourself and your drivers on preventing future accidents. Protective offers online training that provides interactive safety videos on defensive driving, hours of service, CSA, worker injury prevention and more.
3) Examine your route and, if necessary, modify it to reduce driving in areas with high collision exposure. As part of your pre-trip preparation, check the road conditions to determine if there are areas of heavy traffic congestion so you can prepare for the conditions, or choose an alternate route or alternate times to be in the area.
4) Talk with your physician about any medical conditions that may have contributed to the accident, such as poor eyesight or fatigue, and discuss possible treatments that will eliminate the condition or reduce its impact on your driving.
Don't forget! Valentine's Day increases risk of accidents
Your job activities increase around Valentine's Day, which can also lead to more opportunities for injuries. In fact, our experience shows over a 50% increase in accidents the day before and the day after Valentine's Day. You deliver every day. Make sure your most important delivery is getting yourself home safely.
Download our free poster displaying the top five most common injuries and ways to avoid them.
Safety roundtables coming to a city near you!
Protective is hosting safety roundtables next month in the cities listed below. You'll receive hands-on training to help you develop a safety program for your drivers based on the top losses we see annually.
Saturday, March 7 — Houston, TX
Monday, March 9 — Dallas, TX
Wednesday, March 11 — Phoenix, AZ
For more information, contact our Loss Prevention Department at lossprevention@protectiveinsurance.com or 800-644-5501 ext. 7341. And look for more dates and locations in the next IC Safety!
Download the Protective mobile app!
| | |
| --- | --- |
| The Protective mobile app enables customers to easily submit claims, view vehicle ID cards, get the latest safety updates and more. Click to download for iPhone or Android today! | |
Note: Not all features are available to all customers. Please refer to the app's description in the App Store or Google Play for full details.