Surviving the Mother's Day Rush
Contractor injuries increase around Mother's Day
Mother's Day is fast approaching. The day before and after Mother's Day last year, contractor injuries increased due to a more than 50% increase in vehicle and unsafe work practice accidents. The graph below illustrates the primary loss trends.
What can you do to avoid these injuries?
Practice proper lifting techniques
• Stretch and warm up prior to moving freight. Limber muscles are much less likely to pull or tear.
• As much as possible keep loads in the area between your knees and shoulders.
• Always bend at the knees while maintaining a straight back.
• Don't run the risk of over exerting yourself. Get help or use mechanical aids for heavy and awkward loads.
Walk carefully to avoid slips and falls
• Check the condition of the area around and ahead of where you will be walking. Look for uneven surfaces, debris, low hanging branches, water, ice and anything else that can create a hazard.
• Take your time and keep a normal pace, do not run. Being in a rush will cost you more time if you become injured.
• Always use three points of contact when entering and exiting a vehicle and always use the handrail when using stairs.
• Wear appropriate slip-resistant shoes and replace them as they wear down.
Drive safely and defensively
In 2012, the U.S. Department of Labor reported there were almost 1,800 transportation-related fatalities, making motor vehicle accidents the leading cause of workplace deaths. Slow down, don't drive too fast for conditions and increase your following distance. Practice defensive driving techniques at all times. Identify and watch for hazards, other vehicles, and pedestrians as you drive. Remember, always wear your seatbelt!
Click, tug and snug to avoid injury
There are an alarming number of contractors killed, paralyzed or seriously injured in motor vehicle accidents because they weren't wearing, or properly wearing, their seatbelt. In fact this year alone, over 100 contractors involved in accidents were not wearing seatbelts!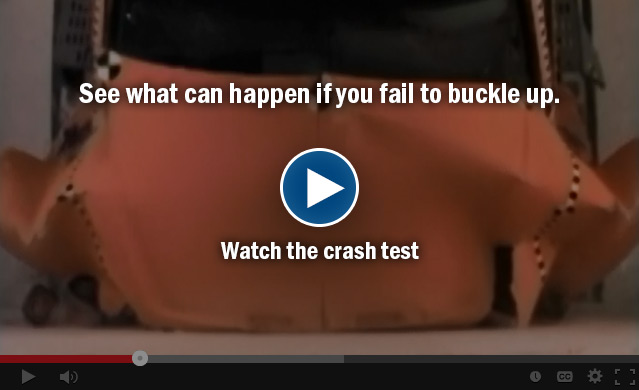 Follow these steps to make sure you are buckling up properly:
1. Click the seatbelt.
2. Tug the shoulder belt across the middle of your chest and away from your neck. Adjust the lap belt across your hips below your stomach.
3. Pull on the seatbelt to make sure it's snug.
4. NEVER put the shoulder belt behind your back or under your arm. The seatbelt may not properly lock in place if there is an impact.
Click here to download a poster displaying the top types of claims and tips on how to avoid them.
Have a safe and happy Mother's Day! You deliver every day. Make sure your most important delivery is getting yourself home safely.
Free download: Top 5 Injuries Poster
Download our free poster to remind yourself of the top five most common injuries and ways to avoid them. Download poster >>
Download the Protective mobile app!
The Protective mobile app enables customers to easily submit claims, view vehicle ID cards, get the latest safety updates and more. Click to download for iPhone or Android today!
Note: Not all features are available to all customers. Please refer to the app's description in the App Store or Google Play for full details.