More than 300 drivers stranded in ice storm
Earlier this month, more than 300 truck drivers were stranded at a truck stop in a Texas ice storm. A Dallas news station reported that treacherous road conditions kept the drivers and their rigs stuck for two nights and a day.
Take a look around your cab. If you were in this situation but not lucky enough to be near a truck stop, would you have the supplies and tools needed to survive for 24 hours or longer?
The winter season is fully upon us and many parts of the country are experiencing the cold temperatures and high risk weather that accompany winter. Hazards like snowstorms and ice increase your chances of sliding off the road or getting in a collision. Depending on where you are when that happens, you may be stranded for a while before help arrives. If it is weather-related, you could be stranded for several days.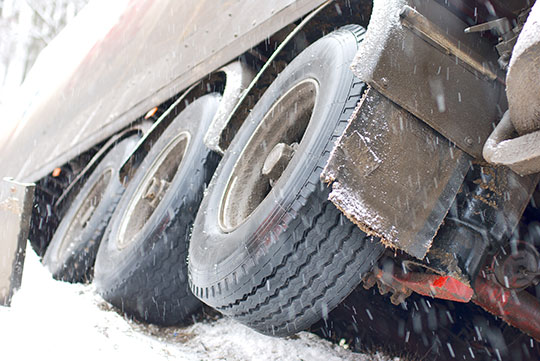 This may sound like an extreme situation but it's something you can easily prepare for by making sure you have the following items in your cab:
• Warm socks, hat and gloves
• Sleeping bag or blankets
• Non-perishable foods such as dried fruit, nuts, granola, cereals and ready to eat canned or boxed foods
• Extra medication (check expiration dates)
• Bottled water
• Shovel
• Bag of cheap kitty litter, pea gravel, sand or salt to help get traction
• Flashlights and extra batteries
• First aid kit
• Jumper cables
• Tool kit
• Tire chains
• Small section of tarp or other material to lay on when installing chains
• Windshield de-icer and scraper
• Emergency flares
• Charged cellphone with emergency contact numbers
• Keep your fuel tanks no less than half full
If you do get stranded, conserve fuel by idling your vehicle sparingly – just long enough to keep yourself warm. Slightly open a window that is away from your exhaust outlet to permit fresh air into your cab. Make sure your exhaust outlet is not enclosed by snow. Also, ration your food and water so you have plenty until you are rescued.
Download the Winter Survival Kit Checklist, from our partners at www.keeptruckingsafe.org, to make sure you stay safe and warm should you get stranded this winter.
Download the Protective mobile app!
The newly redesigned Protective mobile app enables customers to easily submit claims, view vehicle ID cards, get the latest safety updates and more. Click to download for iPhone or Android today!
Note: Not all features are available to all customers. Please refer to the app's description in the App Store or Google Play for full details.
Free Download: Winter Survival Kit Checklist
Be prepared for worst-case winter weather scenarios with the Winter Survival Kit Checklist from www.keeptruckingsafe.org. Download free checklist >>
We've moved!
Protective Insurance Company is excited to announce the relocation of our company headquarters! Our new address is 111 Congressional Blvd., Suite 500, Carmel, IN 46032. Please update your records accordingly. All of our phone numbers, fax numbers and email addresses remain the same.